Kofax SignDoc
Improving transaction processes and strengthening your client's positive impression
Overview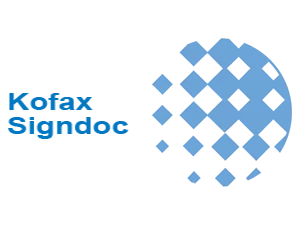 Flow automation with the use of e-signature
A perfect solution for your needs related to e-signatures, Kofax SignDoc® improves the quality of customer service regardless of what device they use.

End-to-end digitization
Simplifying and expediting processes by superseding regular ink signature with the e-signature. Integration of e-signature software with existing systems and access to detailed reporting and transaction monitoring at the same time.

Delight your clients
Allow your customers to operate the communication channels of their choosing by using e-signatures on any devices - anytime and everywhere.

Optimization of costs and resources
Transition to e-signatures reduces the number of manual processes and costs associated with paper consumption. Redirection of human resources by automation of manual tasks in terms of flows associated with entering into and handling agreements.
Benefits: Why customers choose Kofax SignDoc
Increased efficiency
Acceleration of agreement execution and approval thanks to many scenarios of e-signature signing , including e-forms in outlets.

Accelerating transactions
The use of faster and easier ways to sign - regardless if the customer is in a store, division, field, or online.

Reduced risk
Reducing the risk of fraud thanks to multicomponent authentication, digital certificates and biometric signatures.

Compliance assurance
Assuring compliance with legal requirements such as the US ESIGN act and EU eIDAS rules, due to a traceable and comprehensive audit trail.
Features: How can Kofax SignDoc be helpful?
Workflow management
Implementation of workflow ready-made solutions to integrate various ways of signing documents. Applying remote or personal ways of signing, even offline.

Total customer protection
Provision of secure access using many methods of authentication, including SMS code and security questions.

Many implementation options
Several variants: on-premise behind a firewall, in cloud or hybrid mode. Access via business application, web portal or desktop computer.

Two types of e-signature
The beginning of the e-signing process by the "click to sign" feature or a handwritten e-signature - very frequently, it is the preferred way to sign documents in person.

Signature capture options
Signature capturing of handwritten signatures on desktop computers or mobile devices such as tablets or special signature tablets.

Signature verification
Transaction integrity ensured by accessing document and processes audit paths - without the need to incur costs of maintaining additional software.
Discover other solutions which might help you digitalize processes within your company: