Kofax Transformation Module
Automatically classifies, divides and captures data from any document
Overview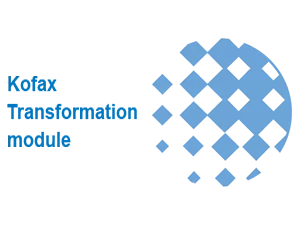 Content oriented workflow transformation
Kofax Transformation can classify large volumes of documents and recognize the information contained in them with a very high level of precision. Kofax Transformation™ accelerates business processes by replacing manual classification, separation and data extraction from documents.

One platform
Kofax Transformation™ makes recognition of any document type and data automatic in order to store and process them at a later time. The software can increase its efficiency to a very high degree when capturing documents, thus allowing pricey integration to be avoided, by using Kofax Capture™ and Kofax Transformation systems.

Processing efficiency increase
Increases productivity and boosts business processes by eliminating requirement of manual classification, separation and extraction data from documents. Processes more transactions in an easy and efficient way and improves information flow in the whole company.

Powerful reporting and auditing capabilities
Kofax Transformation monitors system performance, collects detailed information about classification and recognition flags and shows user, field, document type statistics and other elements in time periods customized by the user.
Benefits: Why do clients choose Kofax Transformation?
Productivity increase
Replaces manual classification, separation and extraction of data from documents by fully automatic processing. Enables processing of greater amounts of transactions while maintaining the current employment level by acquiring a better visibility of information within the whole organization.

Cost reduction
Decreases the amount of manual work and the number of employees involved in classification, separation and extraction of data. The learning functionality adapts to the characteristic attributes of documents so they are processed automatically, in turn decreasing TCO.

Data quality improvement
The functionality of data correctness can handle any document type and verifies whether the loaded information is correct. Verification starts before data is used by business systems. The result is fewer questions from clients and a more accurate and timely decision making process.

Compatibility ensurement
Thanks to the complete audit path, which uses extraction and validation of data functions, we gain accuracy and correctness of information. It ensures that processes are compatible with the client's business policy and regulation requirements.

User engagement
Kofax increases the engagement of users by instantly displaying data from the captured documents on any device. The option to do things at hoc shortens the completion time as well as the time spent on implementing and servicing clients,
Features: How can Kofax Transformation be of help?
Capture images without problems
Kofax Transformation can be integrated with Kofax Capture to capture documents from any place and any source, including a smartphone.

Data recognition regardless of document language
Kofax Transformation uses the optical technology of character recognition (OCR), which recognizes over 140 languages. Therefore, the language of the processed document is not important.

Intuitive interface for document processing
For the majority of tasks, it easily handles unusual situations, which occur during processing of documents with key shortcuts.

Validation rules and matching information with the database
Ensuring data accuracy by establishing validation rules, detecting element positions in documents and matching information according to the data stored in the database.

Audit of operations
Reporting enables monitoring of automated and manual tasks in the process of data capturing and transformation of the captured data.

Real-time functionalities
Ensuring instant display of data from the captured documents on any user device.

"Empirical learning"
Kofax Transformation actively learns new document types while processing them and can correctly recognize documents of the same type for the newly processed documents.
Would you like to find out more about the digitalization of documents?