Kofax VRS Elite
High quality scanned document
Overview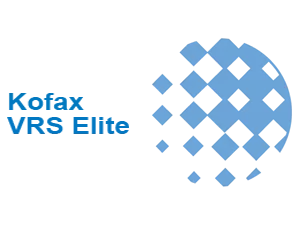 More Precise Data
Quality of scans and performance of the data capture process is crucial for optimized workflows. Kofax VRS Elite works like a quality controller, cleaning the most difficult documents to provide access to the right information.

Revolution in document preparation
Reducing the time of document preparation by using advanced algorithms to analyze each page and automatically apply correct image settings. Coloured and black&white documents can be scanned together without the need to sort and separate them. The increased accuracy of OCR and / or ICR means less manual verification.

Perfect image every time
Korax eliminates the need to re-scan with automatic image correction. Simple tools that enable operators to make quick corrections without having to touch the original document.

Streamlining extraction and acquisition of data
Success rates of extraction and acquisition of data rates increase significantly when high-quality images are sent for further processing. A better quality of images results in a better quality of data and better quality of data ensures a better decision making process.
Why do clients choose Korax VRS Elite?
Demanding documents aren't a challenge anymore.
VRS Elite provides clear images, whether you scan project documents, crumpled paper or other documents which are a challenge for traditional scanning software for scanning.

Management centre for profiles and licenses
Automatic implementation of profiles to each scanning station from a central localization ensures consistency throughout the scanning operation. Management and distribution of licenses for scanning stations is carried out by licensing tools.

Improved accuracy of document processing
Significantly increased accuracy of OCR and ICR reading by delivering cleaned images in order to process your documents during further stages in a better way.
How can Kofax VRS Elite be of help?
No settings are required.
High quality images straight out of the box without the need to apply any settings, saves your time and improves performance.

Remove blank pages
Intelligent removal of blank pages while scanning one-page and two-page documents.

Detect and smooth colours
Detect colored documents and black and white without the need to sort them first. Moreover, using the software you can normalize the background colouring.

Network-friendly images
Elimination of unneeded background elements and shaded areas allows ultra-compact images to be obtained, which are perfect for displaying and quick searches.
Would you like to find out more about the digitalization of documents?